Our department is the first one in mechanical engineering programs that had been accredited by MUDEK (Engineering Evaluation Commission) in our country.
MUDEK commission is established by the Council of Deans of Faculties of Engineering.
Our 30% English undergraduate program has been accredited starting from 2021 till 2023.
Related list: https://www.mudek.org.tr/en/ana/ilk.shtm
Being accredited by MUDEK, our undergraduate program has been entitled to receive EUR-ACE label (European Accreditation of Engineering Programmes). MUDEK commission is entitled to assign EUR-ACE Bachelor label since 2009).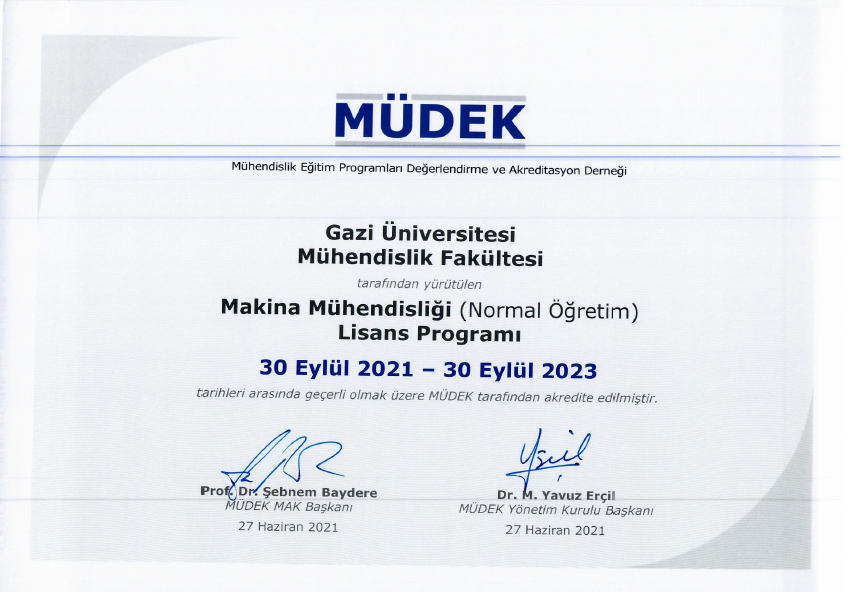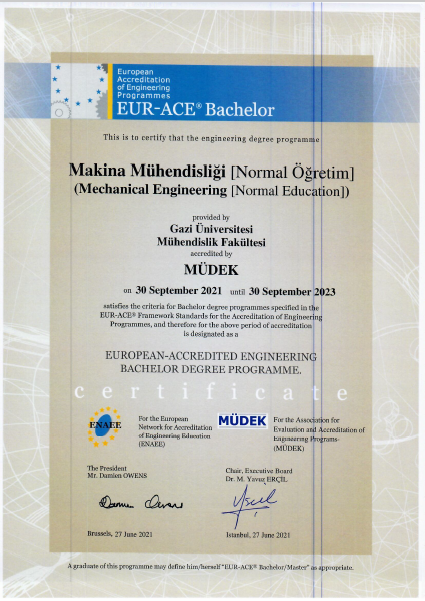 The EUR-ACE® framework and accreditation system provides a set of standards that identifies high quality engineering degree programmes in Europe and abroad.
What are the benefits of EUR-ACE®?
The EUR-ACE® system is internationally recognized and facilitates both academic and professional mobility.
Benefits for students & engineering graduates
*Assurance that the EUR-ACE®labelled programme meets high European and international standards and is recognized by employers in Europe
*Facilitates application to EUR-ACE® Master and doctoral programmes in other Higher Education Institutions
*In countries where the engineering profession is regulated, EUR-ACE®labelled programmes meet the educational requirements for becoming a Registered or chartered engineer.
*The EUR-ACE® label facilitates graduate mobility as promoted by the EU Directive on Recognition of Professional Qualification.
**The EUR-ACE® label is the educational standard for the professional card as promoted by FEANI.
FEANI automatically includes EUR-ACE® labelled programmes in its Index which lists educational requirements for the Eur Ing title.